Leo Couture World War II Navy Veteran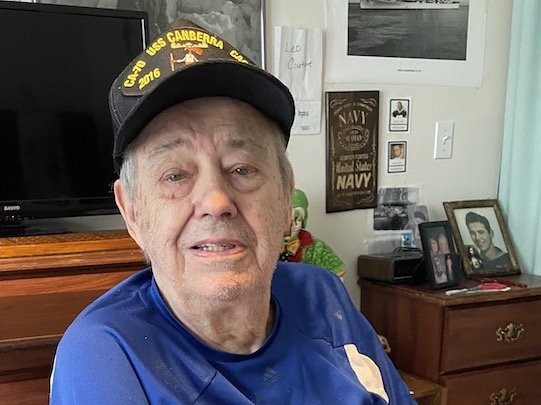 I looked up on the main radar on top of the ship and when she stopped, that means we had picked up an enemy ship, a bogey we called them, a bogey. And we'd wait for them. And if they broke through our firing, we had to hide underneath the four-foot circle.

Leo Couture
Leo Couture was 17 when he joined the Navy under a special program, knowing full well he would soon be going off to war in the South Pacific. His ship was part of a huge fleet, which offered as much protection as possible, but no guarantees.
Prayer has always been a big part of his life, and it certainly was in the nearly four years he was out to sea. He prayed to stay alive, and when the war ended he prayed in gratitude.
Leo shares his life-altering experiences in the South Pacific in this episode of the Catching Your Memories podcast. Now 97, he is one of a dwindling number of World War II veterans still able to tell their stories. Thank you, Leo.
Listen to Leo's story
Where else you can find and subscribe to the Catching Your Memories podcast (Be sure to leave a review!)
Search for Catching Your Memories on your favorite podcast app
Read the transcript
A few Navy pictures
Be sure to come back next week for another episode of Catching Your Memories. And if you have stories or memories you would rather not share in a podcast but would like to preserve for your family, I also record personal interviews. You can learn more about that, including pricing, starting here.