Hazell Jacobs, 86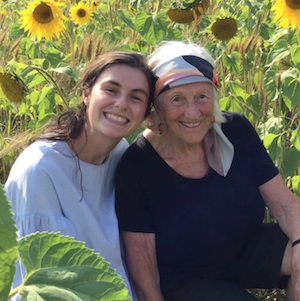 A blog a day for 100 days during isolation. That is what Hazell Jacobs decided to do when in early March, COVID forced London, England into a lockdown. Then 86-years-old, she was clearly in the high-risk category, and a recent health scare catapulted her even higher up the scale.
She may live alone, but Hazell Jacobs is by no means on her own. Albeit from a safe distance, she is in constant contact with her children, grandchildren, and great-grandchildren, other family members, and friends. Kind neighbors in her small community just outside London, also check-in.
Not one to sit and wring her hands — far from it — with the prospect of being isolated for an unknown period of time, Hazell came up with the brilliant idea to write a blog about her scarf collection. She has hundreds, collected from decades of traveling with her husband Godfrey, and after his death, going on motorcoach trips.
She solicited help from her granddaughter Ella Ward, a graphic design student, to set up the blog and its distribution. They named it Scarf Aid, and launched it on March 26, 2020, with the post The Red and White Guggenheim. It is a tale of past and present — March 26 is Hazell's wedding anniversary and she recalls the excitement she felt as a new bride. "On this very day sixty-five years ago I was an excited young bride looking forward to the future."
She says she still looks forward to the future. And the scarf she chose? A red and white one from the Guggenheim Museum. It happened to go with the outfit she was wearing the day she wrote the post and also reminds her of the going away outfit she wore on her wedding day.
Blog 100 went up on the 4th of July and Hazell wrote "How could I have known that my one-hundredth blog would be going out on July 4th, our own Independence Day, when it is officially the day when restrictions in our country are relaxed?"
To celebrate, she wore another red and white scarf from her collection. But reaching her goal of 100 blogs in 100 days did not mean she was done writing. Instead of one a day, she started a second series once a week. She hopes that by next year's anniversary of Independence Day, we will surely " have a vaccine and nightmares will be replaced by happy dreams."
I found out about Hazell and her Scarf Aid blog through a friend who saw an article about her in the New York Times. I signed up for her blog and soon after, there we were sitting in front of our computers chatting away like old friends. By the way, she's known as the Busy Bee Blogger, a moniker bestowed upon her by her grandchildren. A busy bee she certainly is.
You'll love her. I know you will!
Listen to my conversation with Hazell
Where else you can find and subscribe to the Catching Health podcast
Check your favorite listening app. (Search for Catching Health with Diane Atwood)
Read the transcript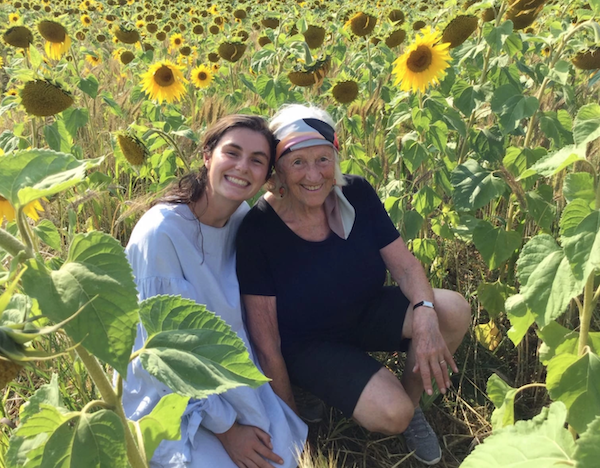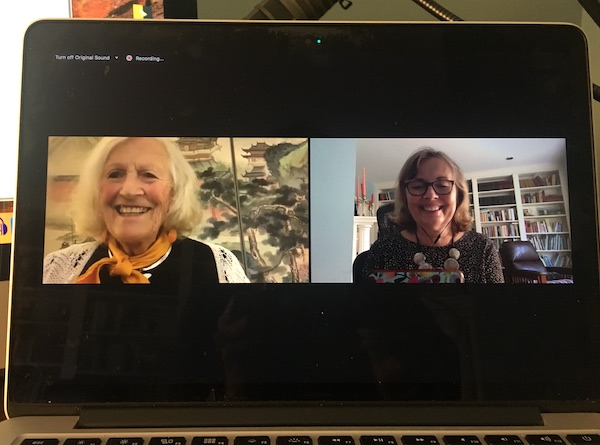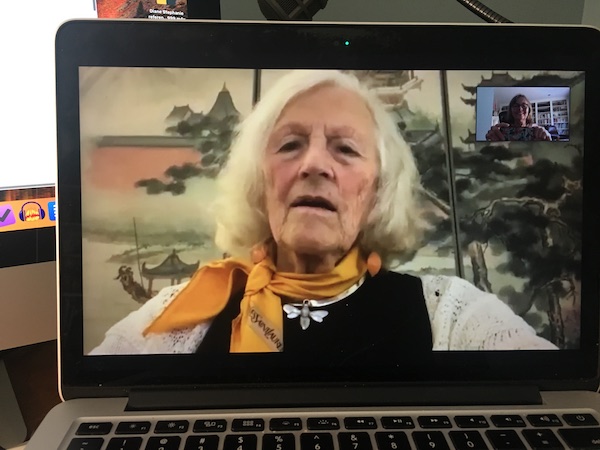 Stories from Scarf Aid
Here are pictures and links to some of Hazell's blog post. To see them all, visit her website Scarf Aid.
Ta ta!