Sue Hoyt, 73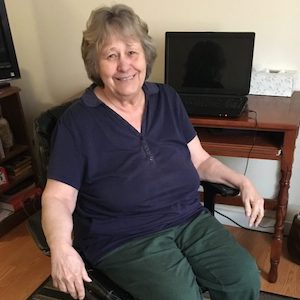 How would you like to raise your children in a log cabin in the Maine woods? With no electricity? A wood stove for heat. A wood stove for cooking. Sue Hoyt did it.
Today, Sue lives in a small apartment in the city of Bangor — with electricity, heat, and running water. At 73, she is now retired but hardly ever sits still.
The word that kept coming to mind during my conversation with Sue is giver. She gave it her all when she made a life for herself and her family in the woods. She did the same when she went back to college in her late 40s and became a social worker. She continues giving as a volunteer — for two organizations that benefit older people.
You will understand what I mean when you listen to our conversation.
Listen to my conversation with Sue
Where else you can find and subscribe to the podcast
Check your favorite listening app. (Search for Catching Health with Diane Atwood)
Read a transcript instead
Organizations Sue mentioned
If you have any suggestions for people I should consider interviewing, let me know. The best way to get in touch is to send me an email. Thank you!
Please share the podcast with friends, family, on social media, everywhere.