From Catching Health to Catching Your Memories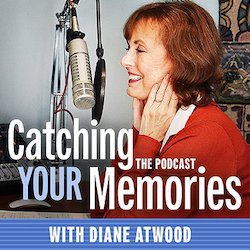 Since 2011, I have had a blog called Catching Health, and in 2016, I launched the Catching Health podcast. For the most part, the podcast episodes focused on health issues.
The year before COVID hit, I embarked on a special podcast project called Conversations About Aging, and traveled throughout my home state of Maine interviewing people 60 and above about their lives and what it was like to be getting older. I love talking with people and sharing their stories but for a variety of reasons, in the fall of 2021, I stopped recording new episodes.
I am excited to announce that I am relaunching the podcast under a new name — the Catching Your Memories podcast. Doing the Conversations About Aging project led me to develop a new business called Catching Your Memories. For a fee, I record people's life stories for themselves and their families only.
If you have a story to tell and don't mind sharing it with everyone, you may instead be interested in being a guest on the Catching Your Memories podcast. At no cost, I will be doing interviews with people of all ages about particular memories/stories/experiences. For instance, in upcoming episodes, you'll hear from Jen Boggs about being a mother, Leo Couture about being in the South Pacific during World War II, and David Atwood, a director at WGBH, about going to France with Julia Child in the 70s.
You can still find all the previous Catching Health podcast episodes here. On Thursday, May 5, 2022, I will drop the first Catching Your Memories podcast episode. Search for the podcast on your favorite listening app or find it here on the Catching Your Memories website. You will also find an archive of Conversations About Aging episodes.
Contact Diane
Fill out the form below if you are interested in being interviewed or just curious — and maybe you'll be my guest on the Catching Your Memories podcast. You may also fill out the form if you'd like more information about doing a private interview. Either way, I look forward to talking with you!